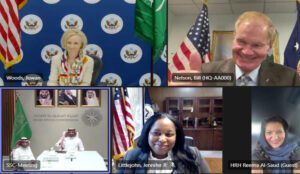 Budapest, 18 July 2022. – Saudi Arabia is the newest country to join the Artemis Accords, demonstrating its commitment to sustainable space exploration for the benefit of all mankind guided by a common set of principles, NASA said.
The Accords was signed by the CEO of the Saudi Space Commission, Mohammed bin Saud Al-Tamimi, on behalf of the Kingdom of Saudi Arabia. Saudi Arabia is the 21st country to sign the agreement. The Accords offers new opportunities for the country's space industry and research sector as well as enabling active contribution to Artemis activities. 
The Artemis Accords were established in 2020 by NASA and the U.S. Department of State. The set of principles guide the next phase of space exploration, reinforcing the implementation of the Outer Space Treaty of 1967. Signing the Accords also means committing to the Registration Convention, and the Rescue and Return Agreement.
The United States continues to cooperate with international partners to establish a safe, peaceful, and prosperous future in space, according to NASA.