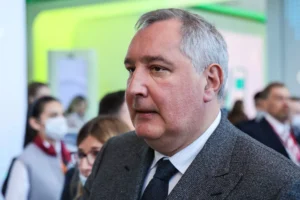 Budapest, 18 July 2022. – Russian President, Vladimir Putin, dismissed Dmitry Rogozin, Director General of Russia's space agency Roscosmos, from his duties. Rogozin's public statements that have brought international criticism for years.
The new Director General of Roscosmos State Corporation will be Yuri Borisov. Borisov became Russia's Deputy Prime Minister in 2018, and served as Deputy Minister of Defense prior to that.
Rogozin has been making inflammatory public statements regarding international cooperation in space since Russia's invasion of Ukraine started. He has threatened to pull the country out of the International Space Station (ISS) program as an answer to sanctions against Russia. So far, none of the threats seem to have made any change in Roscosmos policy.
On 4th July, Roscosmos published photos of the cosmonauts currently serving on the ISS holding flags of two Ukrainian regions occupied by Russia. The anti-Ukrainian propaganda resulted in international condemnation.
Last week, Rogozin commanded the cosmonauts on the ISS to no longer use a European robotic arm attached to the Nauka module. The command put a planned spacewalk into jeopardy, where cosmonaut Oleg Artemyev and ESA astronaut Samantha Cristoforetti would have worked on the same robotic arm.