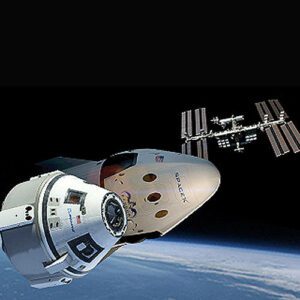 Edinburgh, 25 July 2022.– NASA is postponing the fifth commercial crew mission, Crew-5, to the International Space Station (ISS) by several weeks due to damage caused to the Falcon 9 booster during transport, the agency said.
The launch was originally planned for early September but NASA said it will now not take place before 29th September. The mission will fly NASA astronauts Nicole Mann and Josh Cassada, Roscosmos cosmonaut Anna Kikina, and JAXA (Japan Aerospace Exploration Agency) astronaut Koichi Wakata to the ISS.
The booster was transported from SpaceX's factory in Hawthorne, California to McGregor, Texas for testing purposes when the damage occurred. SpaceX said that the the damage was limited to the interstage between the booster and the upper stage, and some instrumentation.
Crew-5 will launch after the integrity of the booster is successfully tested and after a Soyuz crew handover in mid-September. Soyuz MS-21 will return Roscosmos cosmonauts Oleg Artemyev, Sergey Korsakov and Denis Matveev to Earth. Meanwhile, Soyuz MS-22 will carry cosmonauts Sergey Prokopyev and Dmitry Petelin and NASA astronaut Frank Rubio to the ISS. 
Crew-5 astronauts will fly aboard Dragon Endurance, which previously flew the Crew-3 mission to and from the space station. The spacecraft is currently undergoing refurbishment, with a new heat shield, parachutes, and pod panels being installed.