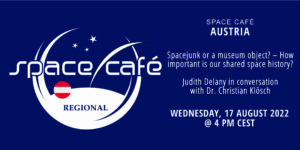 Join Dr. Christian Klösch, historian and curator of the space collection at the Vienna Museum of Technology, and our host Judith Delany for this edition of Space Cafè Austria for a unique insight not just in Austrian space history, but the importance of history in general. In this episode we will talk about what makes an object an object of historic value, how it can inspire the youth and what should be done to preserve it.

Spacejunk or a museum object? – How important is our shared space history?
Dr. Christian Klösch studied Astronomy, History and Philosophy at the University of Graz. He received his doctorate in History from the University of Vienna. He has been with the Vienna Museum of Technology (TMW) since 2009. The space department has grown significantly under his guidance and has led to a new space exhibition at the TMW that opened recently with great press and public feedback. Christian's passion does not only lie with remembering the past but with inspiring the future generation.
Judith Delany is CEO and Co-Founder of Perihelion, the Creative Agency for the Space Sector. Perihelion is a full-service creative agency that specialises in providing video, animation, graphic design and digital marketing services to the space sector. She is also on the Board of Directors of Powering Space, as well as a member of For All Moonkind. Her degree in International Relations with a focus on space law and policy helps her understand the challenges the space sector is facing in this New Space Age. Combined with her degree and ten-year experience in media communications and journalism, as well as her passion for space communication and outreach, Judith is uniquely positioned to tell all the amazing stories space has to offer.
The audience will have an opportunity to ask questions in dialogue with Dr. Christian Klösch.
This Space Café Austria will be conducted in the German language on 17th August 2022 at 4 pm CEST.
SpaceWatch.Global is an Europe-based digital magazine and portal for those interested in space and the far-reaching impact of the space sector.
Reserve your place today.