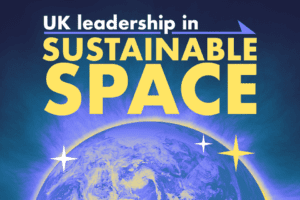 Edinburgh / London, 23 June 2022. – George Freeman, UK Minister for Science, Research and Innovation announced a new commercial framework and additional space sector funding from the UK Government at the 4th Summit for Space Sustainability today. The country aims to become an industry-led, government backed pioneer of commercial space sustainability.
Freeman said that current regulations were not suitable for a highly commercialised space sector as the American regulations date back to the Cold War and EU regulations date back to the 1960s. Britain wants to set a global commercial framework for insurability, the licensing and regulation of commercial satellites. The country would do so by driving down the costs for those who are willing to comply with sustainability standards. 
The Minister said that if the standards were set right, sustainability in the commercial sector could be mainstreamed. The UK will start by reviewing its current regulatory framework for all orbital activities. The country is also committed to building data and metrics in the next few months to give people confidence in space sustainability.
Freeman announced a £5 million investment into space surveillance and tracking capabilities and a further £4 million debris removal programme as well. The UK's overall space funding for the next three years is just short of £6 billion.
"With Prince Charles' help and others around the world, we can start a proper commercial viable framework for space regulation that not just drives investment into the sector but drives real consumer and investor confidence that we are making space sustainable and we are making space a vehicle to drive global sustainability," Freeman said.