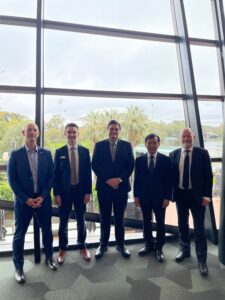 Edinburgh, 24 June 2022. – Leading South Australian space companies announced an exciting collaboration that will explore launching a rocket and a spacecraft with an interfaced electronic warfare payload from Southern Launch's Whalers Way Orbital Launch Complex. 
Southern Launch, ATSpace Australia, Asension, and Inovor Technologies signed the Memorandum of Understanding (MoU) in Adelaide. The companies will bring their unique capabilities to the partnership aiming to demonstrate Australian space technologies. The goal of the MoU is to enable sovereign capabilities for the Australian Defence Force. 
The launch is planned to be carried out by ATSpace's 10-metre, two-stage Kestrel I sub-orbital launch vehicle. Inovor Technologies will manufacture the payload, a mission specific spacecraft integrated with an electronic warfare payload designed and built by Asension. Inovor Technologies will also test its communication protocols during the flight. 
The Australian Space Agency is still to approve and license the launch.