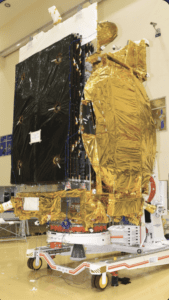 Edinburgh, 24 June 2022. – Arianespace's Ariane 5 launch vehicle has successfully placed two telecommunications satellites into geostationary orbit: MEASAT-3d for the Malaysian operator MEASAT, and GSAT-24 built by the Indian Space Research Organisation (ISRO) on behalf of NewSpace India Limited (NSIL), ArianeGroup said. The launch was the first mission of the year, and the 113th overall.
MEASAT-3d is the fourth satellite deployed by Arianespace for Malaysia, while GSAT-24 is the 25th Indian satellite the company has launched.
Airbus-built MEASAT-3d is a multi-mission telecommunications satellite aiming to enhance broadband speeds in areas with limited or no terrestrial network throughout Malaysia. The spacecraft also carried a payload on behalf of Korean operator KTSAT to improve air traffic control in South Korea. The ISRO-built, Ku-band, 4-ton class communications satellite, GSAT-24 will provide high-quality telecommunications and broadcasting services across India.
Ariane 5 is a heavy-lift launcher, a program of ESA in cooperation with 12 European partner states. ArianeGroup is the lead contractor for the development and production of Ariane 5, while its subsidiary Arianespace, sells the rocket. There are four more Ariane 5 launches planned before Ariane 6 becomes operational.