by Aurélie Gillet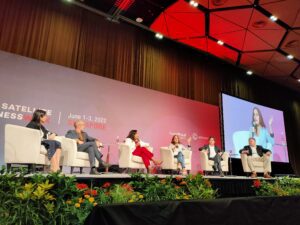 The Asia Tech x Singapore (ATxSG) conference took place from May 31 to June 3 in Singapore, the Lion City. Composed of several events such as the Asia Satellite Business Week, BroadcastAsia, CommunicAsia, ATxAI and others, it constituted a golden opportunity to catch up with the state-of-the-art technology and emerging trends across many parts of the tech sector. As a young professional working as an analyst on the Chinese space industry at Orbital Gateway Consulting, it was the first international conference I had the opportunity to attend thanks to the support of Euroconsult, organiser of the Asia Satellite Business Week. Among the many challenges touched upon, space sustainability strikes me as the most important one. Following the four days conference, I believe that focusing on in-space logistics and increased cooperation and diversity is crucial to building more sustainable space practices.
Space sustainability, an undergoing challenge in the New Space age
With the number of satellites launched per year increasing from many dozens to many thousands in just the past decade, space is getting increasingly crowded, and fostering sustainable space industry growth is becoming trickier. Although it did not constitute a topic of discussion in itself, space sustainability was at the centre of attention throughout the space-related talks. Defined by the Secure World Foundation as "the ability of all humanity to continue to use outer space for peaceful purposes and socioeconomic benefit over the long term [1]" space sustainability is an increasingly urgent concern that is too often overlooked by governments and industry alike. The growing number of actors engaging in space activities, combined with the multiplication of ambitious commercial projects, create as many opportunities as challenges regarding potential benefits on Earth. Activities in Low Earth Orbit(LEO) provide a good example of such duality: LEO is often chosen to host satellite constellations promising a better Internet coverage of remote areas, providing much-needed internet access to the unconnected. On the other hand, this orbit is increasingly crowded not only with satellites, but also with space debris threatening the security of space assets and, in the end, endangering commercial exploitation of LEO and creating the looming threat of Kessler Syndrome.
One way to contribute to solving the problem is to actively remove space debris. Anyone who attended the Asia Tech x Singapore conference may have had the chance to visit the exhibition hall, just behind the registration desk, and pay a visit to Astroscale – one of several companies developing debris removal technology. Calling themselves the "space sweepers", Astroscale is developing technology to identify and capture existing orbital debris (Active Debris Removal -ADR- technology) and non-operational spacecraft (end-of-life technology). It is also developing Space Situational Awareness capacities, necessary to undertake ADR and end-of-life missions. Given the dual-use nature of such technology, i.e., it can be used for both civilian and military purposes, the fact that it is being developed and will be implemented by a commercial actor may appear less threatening to other states. Yet removing existing debris alone will not solve the issue: we need to make current practices more sustainable from the onset.
In-space logistics fostering more flexible and sustainable practices
Leaving the exhibition hall, one could then head to the first floor to attend a plethora of events, including the Asia Satellite Business Week (ASBW) organised by Euroconsult. Ideas conveyed by the ASBW panel discussing in-space logistics were particularly promising regarding building sustainable practices in space. Space logistics is about making space activities more efficient, cost- and resource-effective (per definition, it is the "science of planning and carrying out the movement of humans and materiel to, from and within space combined with the ability to maintain human and robotics operations within space [2]"). If cost-effectiveness and resource-effectiveness do not always coincide, as we know all too well, there are areas where they do. This is the case for in-space refuelling of spacecraft and enabling extension of a spacecraft's lifespan. In-space mobility services, including orbital transfer and phasing services, can respectively enable the repurposing of a satellite without having to launch another one, and to optimize the repartition of constellation satellites. Besides, mobility capabilities also include collision-avoidance mechanisms to prevent the creation of additional space debris.
All those services, discussed by the relevant panel, enable to extend the life of in-orbit satellites, making space activities cost-effective, resource-effective and more sustainable. It is encouraging to witness that several companies, including Exotrail, Space Logistics LLC and Infinite Orbits, are devoting their energy to achieve such goals.
The challenge of cooperation to make space activities 'sustainable by design'
Nevertheless, various panel discussions revealed that many challenges remain. One such challenge is the lack of international, national and industry cooperation. Such cooperation is necessary for the needed standardization of in-space logistics across the many actors involved. Standardized ports on spacecraft would, for instance, make their refuelling much easier and cheaper: without standards, refuelling technology would have to adapt to each and every type of port – a very costly and inefficient process. A stronger dialogue between government and industry would enable the identification of areas where legislation is necessary, as well as the ways in which it should be applied. Admittedly, the impact of standardization can only be optimal if cooperation is realized at the international level.
Given the current state of international relations, especially between key space players, intergovernmental cooperation may not come to fruition anytime soon. One way to go around this issue is for companies to directly engage in dialogue among themselves, without waiting for governmental action. Events and conferences such as the ATxSG conference enable just that. Additionally, an international forum dedicated to in-space logistics could be created by the United Nations Office for Outer Space Affairs (UNOOSA) to provide an institutional platform fostering industry cooperation. In any case, the sooner standards are adopted, the less costly it will be for space services providers in the long run.
Diversity, a sine qua non condition for sustainability
Finally, throughout the ATxSG conference, I was pleasantly surprised to notice the diversity of attendees, both in terms of gender, age and nationality. As one's ideas are necessarily influenced by those factors, encouraging diversity is crucial to foster a fair and inclusive environment and to ensure that the wellbeing of the whole of society is pursued. A last takeaway from the conference is that a stronger voice should be given to the youth: though a plethora of young people were present, very few participated in panel discussions or presentations. Yet, they are often the most demanding and resourceful when it comes to building a sustainable and bright future, in space and on Earth.
The key role of space industry actors in the current geopolitical climate
Space sustainability is an increasingly pressing concern that can only be tackled by a more equitable space industry and by enhanced dialogue and cooperation at all levels. In the current geopolitical climate, space industry actors have a key role to play in fostering cooperation in spite of the existing, and perhaps enduring, political divisions at the global level. Discussions throughout the ATxSG conference showed that despite the remaining challenges ahead, the space industry is on the right track to achieve such goals.
[1] 'Space Sustainability: A Practical Guide' (Secure World Foundation, 2018)
[2] 'Recommended Government Actions to Address Critical U.S. Space Logistics Needs' (American Institute of Aeronautics and Astronautics, 2004)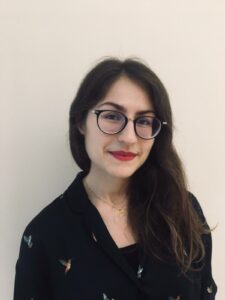 Aurélie Gillet is an analyst on the Chinese space industry at Orbital Gateway Consulting. She is also a final year master's student in Science and International Security, in the dual degree between Sciences Po and King's College London. Her research interests include China, space sustainability and policy, as well as the intersection between politics and international law in outer space. She previously earned a first class honours dual bachelor's degree from Sciences Po and the University of Hong Kong in political science and philosophy, with a regional expertise on international relations in Asia. She speaks fluent French, English and Mandarin Chinese, and has a solid foundation in Spanish and Cantonese.