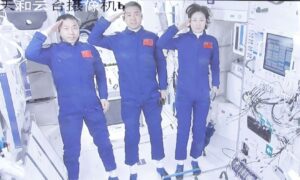 Edinburgh, 7 June 2022. – Three Shenzhou-14 taikonauts, commander Chen Dong, Liu Yang and Cai Xuzhe are aboard the Chinese Tiangong Space Station preparing for their six-month stay in microgravity.
The crew arrived at Tiangong's core module Tianhe, on Sunday morning. The taikonauts have been conducting inspections and setting up their living quarters ever since, said the China Manned Space Agency (CMSA). The trio also has to move supplies from the Tianzhou-3 and Tianzhou-4 cargo spaceships.
Dong, Yang and Xuzhe will complete the assembly of Tiangong by developing it into a national space laboratory with three modules. The Wentian module is expected to launch in July followed by Mengtian in October. The modules will attach on either side of Tianhe with the taikonauts overseeing the assembly operations performed by Tianhe's robotic arm.
CMSA has been cooperating with other countries on astronaut training procedures and the Agency expects international astronauts to fly to Tiangong in the near future.