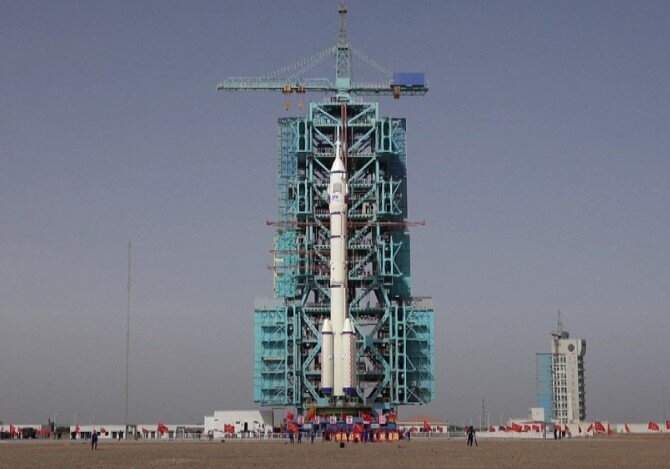 Ibadan, 30 May 2023. – China launched three astronauts to its Tiangong space station on Tuesday, putting a civilian into orbit for the first time as it pursues plans to send a crewed mission to the Moon by the end of the decade.
The Shenzhou-16 crew launched atop a Long March 2F rocket from the Jiuquan Satellite Launch Center at 9:31 am (0131 GMT). According to Zou Lipeng, director of the Jiuquan Satellite Launch Center, the launch was a "complete success," and the "astronauts are in good condition."
Jing Haipeng, on his fourth mission, led the crew, which also included engineer Zhu Yangzhu and Beihang University professor Gui Haichao, the first Chinese civilian in space. In addition, Shenzhou-16 is the first mission to Tiangong since the Chinese Space Station entered its "application and development" stage, according to the authorities.
The Shenzhou craft subsequently docked at the space station's Tianhe core module, taking six autonomous orbit adjustments and about six and a half hours to complete the autonomous fast docking process. After docking, the crew will meet their three colleagues from the Shenzhou-15 flight. The crew from the Shenzhou-15 flight have been at the station for six months and will return to Earth in the coming days.
Speaking on Shenzhou-16's mission, the China Manned Space Agency (CMSA) spokesperson Lin Xiqiang told reporters that the crew will "carry out large-scale, in-orbit experiments… in the study of novel quantum phenomena, high-precision space time-frequency systems, the verification of general relativity, and the origin of life." The Spokesperson also added, "The overall goal is to achieve China's first crewed landing on the Moon by 2030 and carry out lunar scientific exploration and related technological experiments."