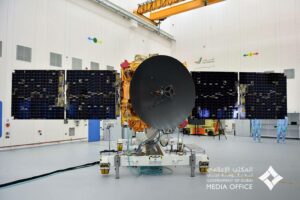 Edinburgh, 3 June 2022. – The UAE has been chosen to lead the United Nation's Peaceful Uses of Outer Space (COPUOS) committee with Omran Sharaf Emirati engineer serving as director of COPUOS in 2022 and 2023, the UAE reported. 
COPUOS has 100 member states and has been in operation since 1959. It plays an important role in encouraging international co-operation and recommending laws and policies that support the peaceful exploration of space. The work of the Committee is based on the Outer Space Treaty of 1967 outlining peaceful uses of space.
Mr Sharaf was involved in the UAE's successful Mars mission and previously represented the country on COPUOS and the International Committee on Global Navigation Satellite Systems.
His appointment comes in a time when the militarisation of space is on the increase with anti-satellite weapons and cyber attacks on satellites. These issues do not only pose political questions but are also dangerous to infrastructure both in space and on Earth.