By Sabine Pongruber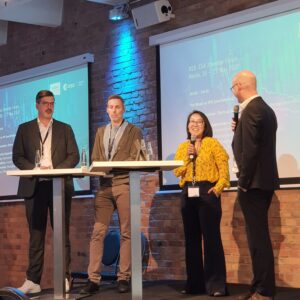 The first of seven global European Space Agency (ESA) Investor Events in 2022 took place on 16th and 17th of May in Berlin, Germany. These exclusive events enable investors, venture capitalists and fund organizations to explore the best deals in the New Space economy. The event provided a stage for startups to showcase their innovative ideas and to show how they generate funding. Since its founding, ESA´s incubation network – has enabled over 2000 startups and SMEs to commercialize their ideas and grow outside the space industry.
Become an entrepreneur today
The message this year was loud and clear – continue the path toward commercialization of space technology and continue to participate in the fast-growing new space economy as business owners. Or, as Josef Aschbacher, ESA´s General Director, put it in his opening remarks, "become astropreneurs". Similarly, Elodie Viau, ESA's Director of Telecommunications, emphasized the urgency to build "entrepreneurial skills" and become actively involved with corporations outside the space industry. Anna Christmann, German Government representative, reinforced Germany's commitment to build bridges between industry and new space tech, as technology is a critical enabler to accelerating sustainability goals achievements. The Forschungszentrum der Bundesrepublik Deutschland für Luft- und Raumfahrt (DLR) – represented by René Kleeßen, another highly respected decision maker and space influencer, also encouraged commercialization and launch into new markets.
New Space Economy
In their latest "Space – the dawn of a New Age" (May 2022) Report, Citi GPS predicted a total space economy size of $1 trillion by 2040, growing from $370 billion in 2020. Satellites remain the key contributors to the growth, and New Applications & Industries will be holding a 10% share in 2040. Private investors and funding will play a significant role on this path to growth, while governmental investments will remain the backbone of the space industry. To play an essential role and be competitive in the industry, Europe will need to become bolder, less risk-   averse and accept uncertainty when investing into new technology – as Frank Salzgeber, Head of Innovation and Venture Office at ESA, continuously advocates.
Communities and Partnerships
Growth of the new space industry seems to be inevitable and commonly agreed upon. Turning the market predictions into reality will be made possible by scaling up startups and the continuous commercialization of space technology into non-space industries. Helping hands – if you will – are Venture Capitalists (VC) and Business Angels, and in general the inflow of private capital. These investors will contribute by financing breakthrough technologies and deep tech businesses beyond the traditional space industry. From Pre-Seed, seed financing or Series A and B, private capital is already heavily invested. Due to this, new businesses benefiting from it are on the rise. The VCs present at the ESA Investor Forum showed their way of working to enable new companies to reach their goals. This includes facilitation of IPOs. Jointly OTB Ventures, APEX Ventures and DB Digital Ventures emphasized that startups should assess their VC partners before entering the long-term journey toward commercial success. Niels Tomm, representative of the Board DBAG & Co-CEO CEINEX, emphasized the willingness to keep successful companies within the country of origin in case they decide to go public. You can be ensured that Deutsche Börse will be a strong partner for current and future space entrepreneurs.
Technology Expansion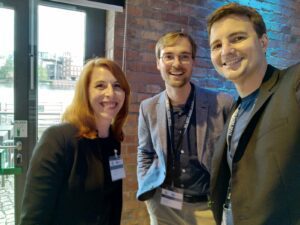 On the technology side, the European Union Agency for the Space Program (EUSPA), established in 2021, continues to promote its Entrepreneurship team (led by Stefan Schneider, the Space Downstream Entrepreneurship Officer). The goal of Schneider is to emphasize how European space capabilities and tech entrepreneurs could benefit from utilizing the world´s best satellites.
PWC "Main trends & challenges in the space sector" Report 2nd edition, December 2020 was right when they highlighted "Earth Observation (EO) market is rapidly growing with rising both supply of imagery through NewSpace constellations as well as in demand". In Berlin Stellar, LiveEO and OroraTech shared their success stories within the EO market. These companies are already generating revenue and serve customers worldwide, upstream and downstream.
But EO is not the only space technology pushing forward and in industries outside the traditional space market. Among those presented during the event were Energy Storage (Phelas), wind turbine assembly (Flucto), beverage production efficiency (KTW Technology), robot automation (ROBCO) or mobility (Lilium) just to name a few.
My personal highlight was Unleash Boats, opening new transportation routes on water by utilizing the world´s first autonomously driven boats. Lars Holger Engelhard CEO Unleash provided insights into their 42 km long digital water test field and showed progress on their harbor construction site. The team, in my opinion, is an example of excellent entrepreneurship: doing what it takes and going all in. Staying flexible in their approach and acting financially smart in their investments.
It is a good time to be in New Space
Next year, there will be even more representatives from outside the space industry connecting the dots to participate in the new space revolution. These representatives continue gaining competitive advantages for their non-space businesses. The technology is ready. Value prepositions can be easily built. Capital to execute is flowing in. The current momentum in the industry makes this a great time to jump on board the space tech vessel.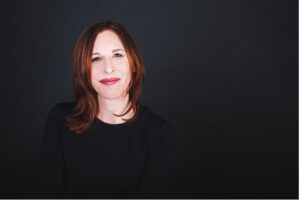 Sabine Pongruber is an economist and Energy industry and manufacturing veteran, who spent 16 years in global roles at General Electric. In 2019 she founded WEME Global and drives growth for customers by scaling up operations and executing on operational excellence through lean and efficient processes. Since 2022 she is venturing the space industry building bridges between established industry production and new space production requirements. She is based in Salzburg and a spends her free time in the mountains. That´s the closest you can get to space by yourself, she says.
DISCLAIMER:
The views expressed on this article are those of the author alone. The author or it´s company´s affiliates are not commercially or financially related of any sort to the companies mentioned above.