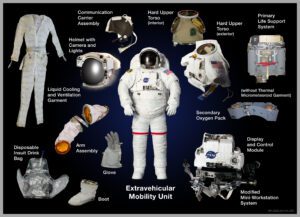 Edinburgh, 2 June 2022. – NASA selected Axiom Space and Collins Aerospace to provide astronauts with next generation spacesuit and spacewalk system capabilities in low Earth orbit and on the Moon as well as future human missions to Mars, the Agency said.
The arrangement allows for NASA expertise to be paired with commercial innovation to support continued science in the space environment. The two companies were chosen from the Exploration Extravehicular Activity Services (xEVAS) contract solicitation. The contract enables selected vendors to compete for various task orders for missions serving NASA's spacewalking needs through 2034. 
The indefinite delivery and indefinite quantity xEVAS contract has a combined potential value of US $3.5 billion. The first task orders comprise the development and services for the first demonstration outside the ISS and for the Artemis III lunar landing, NASA said.
Axiom and Collins have both invested into the development and will therefore own the spacesuits whose technical and safety standards were defined by NASA. The design, development, qualification, certification, and production are in the hands of the two companies. The firms are also encouraged to leverage the data and technologies co-developed with NASA on other commercial platforms.