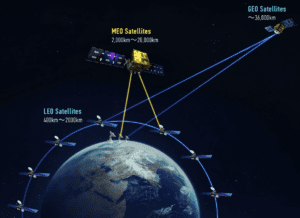 Edinburgh / Tsukuba Science City, Ibaraki, 2 June 2022 – Spacetech startup Warpspace and high powered Edge computing company OrbitsEdge signed a mutual Letter of Intent to explore the opportunities for collaboration to become space big data facilitators by combining optical communication with edge-computing technology. 
Warpspace provides optical inter-satellite data relay services while OrbitsEdge's SatFrame platform provides the infrastructure required to survive the space environment. The company achieves this by integrating radiation shielding and thermal management solutions into the SatFrame infrastructure.
Warpspace's WarpHub InterSat is an optical inter-satellite communication relay network comprising three satellites. The bandwidth provided by the system is ideal for on orbit computation and high levels of storage, OrbitsEdge said. 
The combined technology will allow for a near real time and low-latency optical link communication network. The collaboration will enable complex operations such as autonomy, assembly, maintenance, manufacturing, and Earth observation analytics above the transport layer.