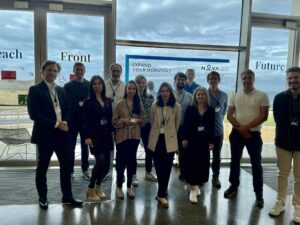 Imagine taking a stroll walking along the beach, seeing the palm trees swaying in the wind, hearing the waves crashing on the shore, and smelling the fresh sea-salt air. 
This was how I kicked off day 1 of Module 2 of the Space for Business course in Carcavelos, Portugal. We will spend the week learning, discussing, and creating at the Nova School of Business and Economics, a leading business school in Portugal and one of the best business schools in the world in the areas of Economics, Finance and Management. 
We began the day with a brief tour of Nova – a public university with high-level private funding, allowing for in-depth exchange and projects with real-life clients. Fun fact, the campus has the shape of a hand, with many buildings stretching out from the main building reaching for the coast. 
The university has a big focus on innovation and entrepreneurship – so naturally we all felt at home and very inspired to work on our personal impact projects. This week has much more of a hands-on focus, as we are encouraged to actively work on our projects and learn from each others experiences and expertise, and we will hear from many space startups to learn from their stories. 
It was only fitting to kick off the schedule with a presentation from Euclides Major, from the Nova Haddad Entrepreneurship Institute. Euclides gave us some key advice for startups, the big one being that there is a necessity to bring in strong emotions – you need to be convinced by what you do and share that narrative. When it comes to people, progress, and product he also had some tips for us: "hire people better than you"; "do more faster"; and "don't wait to launch a product till you are proud". Sharing mistakes is key, because once you pass through this you will have a better understanding of what you need to do.
"By failing to prepare, your are preparing to fail" – Benjamin Franklin
Our conversations ventured to topics of space sustainability, defense, governance, and law. From Ricardo Conde, president of Portugal Space, we heard how Europe needs to step up its game: "In Europe we are reacting". Conde explained how we are stuck to go forward in Europe as we are very institutional and all processes take longer but there is a lot of potential. 
A key takeaway for me came from the presentation of Sven Przywarra, co-founder of LiveEO. Sven explained that it is key to also look outside of the space sector, even if you have a predominantly space-themes business, as this sector is quite small and very circular. 
The outlook for this week will be to focus more on the entrepreneurial process, from developing new ideas to exploring new business models. For our personal impact projects this means moving away from the initial idea to accelerating our plans all the way to execution. The topics we will focus on this week are entrepreneurship in space, creativity and ideation, venture capital, and management. 
Stay tuned for more! 
Yours,
Chiara