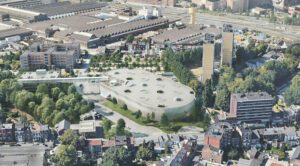 Edinburgh, 21 June 2022. – Satellite platforms and geospatial intelligence company Aerospacelab unveiled its project to build a new satellite megafactory capable of producing 500 satellites annually. The new site will be built by Sambrinvest in Charleroi, Belgium.
The new factory will feature a total working surface of 16,000 square meters, including a 6,000-square-meter ISO7 cleanroom and 3,000-square-meter laboratory. Production at the megafactory is planned to start in the beginning of 2025 to meet the increasing demand for satellites. 
According to Euroconsult, over 1700 satellites can be expected to be launched annually by 2030. The company claims to have been inspired by the automotive industry where "standardised products still have the possibility to be customised for specific needs."
Aerospacelab aims to make geospatial intelligence actionable and affordable by a vertically integrated approach. The company offers satellite design, prototyping, and hardware testing as well. Its space-based intelligence is utilized in environment protection, sustainable commodity production, agriculture, infrastructure monitoring, and security, among others.