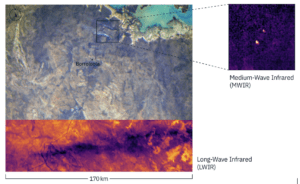 Edinburgh, 21 June 2022. – Munich-based NewSpace intelligence startup, OroraTech, has achieved the desired mission goals for FOREST-1, its first satellite dedicated to environmental monitoring, the company said. The satellite has been operational since January 2022.
The spacecraft, that does not require cooling, specialises in wildfire detection by combining thermal, mid-infrared and visible cameras. Its graphics processing unit (GPU) processes data on-orbit with real-time downlink through an inter-satellite modem.
The peak time for wildfires is in the afternoon, however, current satellites struggle to cover that time frame. FOREST-1 aims to bridge this gap by achieving a 30-minute detection time instead of the current 8-hour one.
FOREST-1 is just the first step towards a future nanosatellite constellation. The company is planning to launch the next eight satellites by the end of 2023. OroraTech claims that its technology is highly scalable, cost-efficient and capable of providing worldwide coverage of high-resolution temperature measurements. This data will aid urban heat monitoring, irrigation of agricultural land, and carbon emission tracking, among other applications.