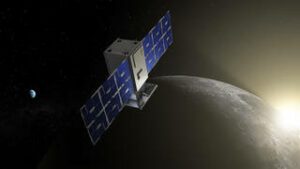 Edinburgh / Irvine, California, 11 May 2022. – Small satellite manufacturer Terran Orbital, primarily serving the United States aerospace and defense industry, announced it has shipped its CAPSTONE satellite to a launch site in New Zealand. The satellite will launch on Rocket Lab's Electron rocket using a Lunar Photon satellite upper stage to deploy the spacecraft on a lunar transfer trajectory. 
The Cislunar Autonomous Positioning System Technology Operations and Navigation Experiment (CAPSTONE) pathfinding mission supports NASA's Artemis program.Terran's Tyvak Nano-Satellite Systems built the 12U CubeSat spacecraft including a radio tower on top. 
CAPSTONE will not go to the Moon but will follow a "ballistic lunar transfer," taking it 1.5 million km away. Then it will return to a precise balance point in the gravities of the Earth and the Moon. The 4-month transfer will save propellant, making the mission feasible for such a small spacecraft, Terran said.
The payload and its software belong to and are operated by Advanced Space for NASA. CAPSTONE will act as a pathfinder for Gateway, NASA's Moon-orbiting outpost, part of the Artemis program. The mission will validate innovative navigation technologies and verify the Near Rectilinear Halo Orbit's (NRHO) dynamics as well. The location offers stability for future long-term missions while requiring minimal energy to maintain.