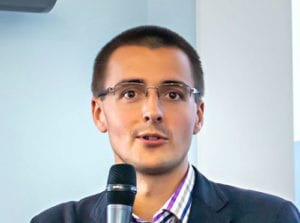 by Judith Delany
The second Edition of Space Café Austria by Judith Delany took a closer look at the trends and recent developments in European Space Policy. Host Judith Delany spoke with Tomas Hrozensky of the European Space Policy Institute (ESPI), an expert in the field. Tomas has been a Researcher at ESPI since July 2018. He holds an MA and PhD in international relations from the Matej Bel University in Banska Bystrica, Slovakia.
Tomas is the ECSL NpoC for Slovakia through the Slovak Space Policy Association NGO. Prior to joining ESPI, he was enrolled in a PhD Programme that also brought him to Washington DC as a Fulbright Scholar at the Space Policy Insitute of George Washington University.
The ESPI is a European think thankfully specialized in space policy and related topics. As a researcher, Tomas always has an eye on the most recent developments and has the unique ability to forecast trends. In recent years, the topic of space traffic management has gained momentum, a development also visible in the three new ESA Accelerators. But in the last few months, another important topic emerged and even managed to reach mass media and therefore the general public: The benefit of satellite imagery. Russia's war in Ukraine has highlighted, how satellite imageries can detect various types of activities on the ground. This is not the only effect the war has had on the European space sector. Termination of cooperation with ROSCOSMOS on the one hand, but closer cooperation with other players on the other were notable in the last few months. "Europe basically found itself in a bit of a precarious situation with actually not having a readily available alternative solution for launching very sensitive and very needed payloads (..). So that has been certainly a situation which has been sort of a wake-up call with, with a long term impact still to be investigated," says Tomas. The  European Space sector is facing some interesting challenges and chances.
But what about the smaller nations? Looking at how EU and ESA Members develop in a national level, Tomas pointed out the clear trend for using space for very specific national policy objectives.
"You have a few national priorities that make some countries unique. A few examples: You get Luxembourg, which is very strongly pushing for the space resources utilization and all these things related to space resources, extraction and utilization on technical or on the regulatory level. You got Sweden, and Norway, doing quite a few activities with regards to space launch or space transportation. In Hungary, there is an ongoing national astronaut program. Estonia, a big powerhouse in cybersecurity, also includes cybersecurity in their space capability."
The trend in niche specialization can also be seen in Austria.
"I think in the case of Austria, it is a focus on climate and sustainable development."