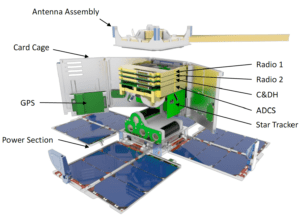 Edinburgh / London, 11 May 2022. – The United States' National Reconnaissance Office (NRO) is partnering with the United Kingdom's Ministry of Defence (MOD) on the historic first commercial rocket to be launched from the UK, the MOD announced.
The launch will be carried out by Virgin Orbit, sending 9 multinational rideshares to orbit aboard its LauncherOne and a modified Boeing 747 aircraft. This mission will deploy MOD Defence Science and Technology Laboratory's two Prometheus 2 CubeSats in the summer. This will be the first launch from British soil and the first commercial launch from Western Europe. The cooperation means that NRO can now launch from two oversees locations: New Zealand and Europe.
LauncherOne will be NRO's first horizontal launch. Cosmic Girl, the modified Boeing 747 aircraft, will take off from Spaceport Cornwall, England, carrying the LauncherOne rocket. Virgin Orbit's launch vehicle has had three successful missions following a failed test flight in May 2020. The company announced the signing of an agreement with L3Harris Technologies to acquire two Boeing 747-400 airframes. The procurement is needed to support growing satellite launch demand.