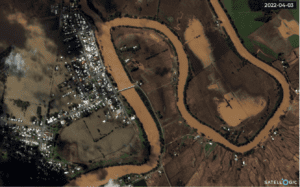 Edinburgh / New York, 13 May 2022. – Sub-meter resolution Earth observation data collection company Satellogic, announced that it has entered into a teaming agreement with German real-time risk and disaster intelligence provider Mayday.ai, to improve data intelligence for risk and disaster management.
The cooperation will eliminate barriers between upstream and downstream of Earth observation (EO) data. It will also create new standards for risk and disaster intelligence, including reducing the time elapsed between an event and data acquisition.
The combined technologies integrate EO capabilities and advanced data processing with artificial intelligence. Mayday.ai utilizes machine learning along with a high number of data sources. This allows for automated risk-modeling, insights for preventive action, real-time detection, and rich post-event analytics. 
This will be enhanced by Satellogic's high-frequency, high-resolution satellite constellation. The continuously growing constellation is expected to image the entire globe every week in 2023 and every day by 2025. The alliance will allow communities, companies, and individuals to obtain disaster insights more easily, Satellogic said.