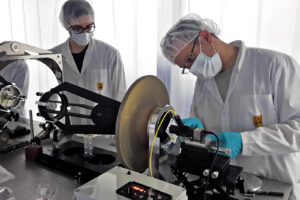 Edinburgh / Sarcedo, 13 May 2022. – Italian Officina Stellare announced that it signed an investment agreement with shareholders Virgilio Holding, Astro Alliance, MIRAK Enterprise, Gino Bucciol and Nettar Group, a wholly-owned subsidiary of Satellogic, a geospatial company and leader in sub-meter resolution Earth observation data collection. 
Officina specializes in the design and manufacturing of opto-mechanical system instrumentation for the aerospace, research and defense-related markets. The four shareholders, Virgilio Holding, Astro Alliance, MIRAK Enterprise and Gino Bucciol own 4,677,690 shares equal to 82.44% of the company's capital.
The Investment Agreement allows Nettar to purchase 283,725 shares representing 5% of Officina's outstanding shares for a total of € 3,767,868. Officina will also issue and assign 524,715 warrants to Nettar. This gives Nettar the right to purchase further shares in three instalments over a period of 36 months. Furthermore, the Agreement authorizes a capital increase to a maximum of € 8,080,611.00.
Nettar also has the right to designate a director in the person of Emiliano Kargieman, Co-Founder and CEO of Satellogic.