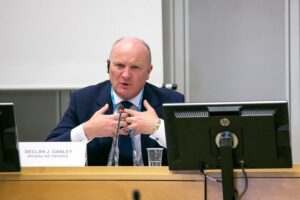 Edinburgh / Geneva, 13 May 2022. – German Rivada Space Networks, a new company launching a constellation of 600 low-Earth-orbit communication satellites, announced a pledge of US $112 million toward creating an Open Access Platform for the ITU Partner2Connect Digital Coalition to help bridge the digital divide.
The ITU (International Telecommunication Union) launched the Partner2Connect Digital Coalition in response to the digital divide affecting about 2.9 billion people. The Coalition is a multi-stakeholder alliance to help mobilize resources, promote sustainable digital technology uptake, and ensure connectivity, Rivada said.
Other global technology and communications firms such as Microsoft and Vodafone have also joined the alliance. Their aim is to create an equitable marketplace for satellite capacity.
Rivada will help low-income communities by adapting the market-clearing price of unsold satellite data capacity to the local market situation. This way, unserved and underserved communities will also be able to afford satellite connection at a fair price. Due to Rivada's business-to-business wholesale business model, local entrepreneurs are encouraged to bring connectivity to their communities.