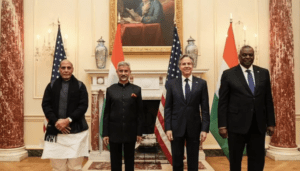 Edinburgh, 25 April 2022. – The United States and India signed a Space Situational Awareness arrangement bound by common strategies interests, the U.S. Department of Defense (DoD) said. The cooperation comprises defense, climate, science, technology, trade, and public health.
The delegation discussed humanitarian assistance efforts and new opportunities to cooperate more closely together to ensure a free and open Indo-Pacific region. The countries finalized bilateral initiatives on information-sharing, liaison exchanges, and joint service engagements, the U.S. DoD said.
The U.S. and India committed to deepening cooperation in the space and cyberspace domains and signed a Space Situational Awareness (SSA) agreement. They agreed to launch a Defense Artificial Intelligence Dialogue as well as expanding joint cyber training.
Cooperation with like-minded nations like Australia, Japan, and European countries, was also discussed to ensure freedom of the seas and territorial integrity. The U.S. also called for investments by its defense companies in India.