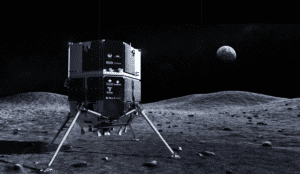 Edinburgh, 25 April 2022. – Japanese start-up ispace's futuristic lunar lander is taking shape in ArianeGroup's clean room after four years of the program's launch. The project is scheduled to launch to the lunar surface at the end of this year.
Under the agreement signed by the two companies, ArianeGroup supplies the components for the propulsion system. It is also helping with assembly, integration and testing. ispace aims to use the lander for two lunar exploration missions named HAKUTO-R (white rabbit) by 2024. White rabbit refers to the character in an East-Asian Moon legend. The first mission is planned for as early as Q4 2022.
While the structural model was developed and built in Japan, the lander was relocated to Lampoldshausen, Germany for assembly, integration and testing. During this phase the avionics, solar panels and various payloads will be integrated along with two of ispace's customers' rovers. 
The work is scheduled to be completed in May, after which HAKUTO-R will undergo environmental testing before heading to the Moon.