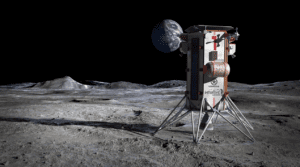 Edinburgh / St. Petersburg, 22 April 2022. – Lonestar Data Holdings announced that it is launching a series of data centers to the lunar surface. The holding has already contracted three companies for its first two missions to the Moon and for the build of its data services payload.
The lunar startup will provide data services and communications from the Moon by utilizing a platform for critical data infrastructure and edge processing. Lonestar claims the Moon is the ideal location for the premium segment of the US $200 billion global data storage industry. The company also addressed environmental and biosphere concerns due to growing data centers on Earth.
Lonestar has contracted aerospace company Intuitive Machines to perform a series of advanced service tests on their IM-1 mission. IM-1 will land on the Moon near Marius Hills in the larger Oceanus Procellarum. The first full data services payload is planned to arrive at the Moon's pole on Intuitive Machines' IM-2 mission.
Lonestar contracted orbital vehicle developer and operator Skycorp, to build its first ever data center payload. Meanwhile, the exterior design of the data center is going to be designed by architectural firm BIG.