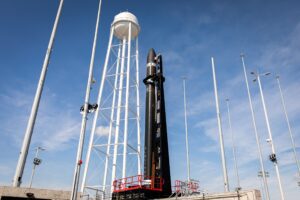 Edinburgh / Long Beach, 22 April 2022. – Rocket Lab announced it has been selected by Virginia-based radio frequency geospatial analytics provider HawkEye 360, to launch three Electron missions. The first of the three missions is scheduled to be Rocket Lab's inaugural Electron launch from Launch Complex 2, Virginia, planned for December this year.
Launch Complex 2 at Virginia Space's Mid-Atlantic Regional Spaceport is a dedicated pad for Electron launches in support of missions from U.S. soil. This will be Rocket Lab's third launch pad, with the previous two located in New Zealand. The three launch locations allow for more flexibility over schedule, launch frequency as well as location. 
Rocket Lab will deliver 15 satellites of five clusters to low Earth orbit between 2022 and 2024 according to the multi-launch contract. The company will deploy three satellites on a rideshare mission, followed by twelve satellites distributed over two dedicated Electron launches. The firm will also supply HawkEye 360 with separation systems produced by Rocket Lab's space hardware company, Planetary Systems Corporation.
These missions will grow HawkEye 360's radio frequency monitoring satellite constellation. The company combines radio frequency emissions data with analytical tools and algorithms to provide insights for commercial and government customers. The imagery is used for the detection of illegal fishing, national park poachers, GPS radio frequency interference, and emergency beacons.