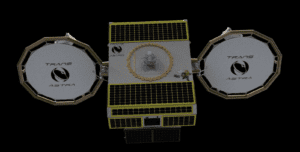 Edinburgh /Helsinki / Los Angeles, 22 April 2022. – Orbital logistics and space domain awareness solutions provider TransAstra, and software-defined small satellites provider ReOrbit, announced that they have entered into a partnership for initial spacecraft development and orbital logistics services.
According to the contract, TransAstra will provide mission definition and engineering analysis for its Worker Bee orbital transfer vehicles, the companies said. This will help to deliver ReOrbit's satellites to low Earth-, medium Earth-, geostationary-, and cis-lunar orbits. Furthermore, ReOrbit will provide development options that will generate cost, feasibility, and integration considerations. The focus of these will be to aid the production and testing of Worker Bee. 
TransAstra will further explore the option of selecting ReOrbit as a preferred microsats and smallsats supplier for certain customer payloads. Meanwhile, ReOrbit will examine the possibility of selecting TransAstra's Worker Bee as their preferred orbital transport vehicle services provider. These two provisions will mean the signing of a new Memorandum of Agreement.