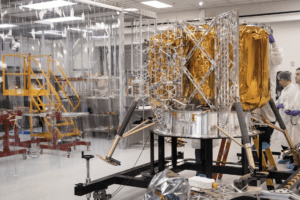 Edinburgh / Pittsburgh, 21 April 2022. – Astrobotic unveiled the flight model of its Peregrine lunar lander that will fly to the Moon on a United Launch Alliance Vulcan Centaur rocket in Q4 2022. The project is part of NASA's Commercial Lunar Payload Services initiative.
Peregrine's unveiling took place at Astrobotic's headquarters in Pittsburgh with Congressman Matt Cartwright, NASA's Bill Nelson, Dr. Thomas Zurbuchen, and James Reuter attending. 
The approximately 46,000-square-meter facility is dedicated to developing and operating lunar spacecraft. All attendees were required to wear white coveralls and hairnets before entering the Peregrine-assembly cleanroom to avoid contamination.
The 24 payloads that Peregrine will deliver to the Moon's surface are already integrated onto Peregrine's flight decks. These include scientific instruments from three different space agencies, a rover from Carnegie Mellon University and several payloads from commercial companies. After full integration, Peregrine will undergo environmental testing before beginning launch preparations.