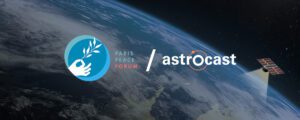 Edinburgh / Lausanne / Paris, 21 April 2022. – Global nanosatellite IoT network Astrocast announced it joined the 'Net Zero Space' initiative, set up by the Paris Peace Forum with the aim of achieving sustainable use of outer space for the benefit of humankind by 2030. 
The initiative is focused on addressing the issue of increasing space debris by uniting the private sector, civil society, academia, public authorities and regulators. Astrocast has a long-term commitment to sustainability. The company qualifies its satellites to withstand launch and space conditions. This prevents components from detaching, which would add to orbital debris and may also damage other spacecraft.
Astrocast also cooperates with the 18th Space Control Squadron in order to track satellites and prevent collisions. If an object that comes too close is non-active, Astrocast immediately executes a collision avoidance maneuver. In other cases the company contacts the satellite operator to agree on the necessary steps. Astrocast equips its satellites with on-board propulsion systems allowing for easy control to perform these maneuvers.
The company has also conducted re-entry analysis to ensure its satellites could de-orbit safely, Astrocast said. This makes the firm compliant with ESA guidelines stating that operators should dispose of a satellite within 25 years from the end of its mission.