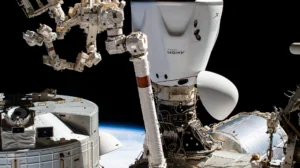 Edinburgh, 27 April 2022. – Axiom-1, the first all-private astronaut mission to the International Space Station (ISS), successfully returned to Earth. American commander and former NASA astronaut Michael López-Alegría, pilot Larry Connor, Israeli mission specialist Eytan Stibbe, and Canadian mission specialist Mark Pathy landed off the coast of Florida yesterday.
Crew Dragon Endeavour docked to Node 2 on the ISS Harmony module on 9th April. The Ax-1 crew completed various science experiments and conducted public engagement activities over the course of two weeks. Experiments included researching stem cells, chronic pain and sleep disturbances during space travel.
The Ax-1 crew remained in low Earth orbit onboard Endeavour for about 17 hours before re-entering Earth's atmosphere. Crew Dragon Endeavour is designed to splash down at sea with seven possible landing sites. SpaceX's recovery team raised the capsule out of the water onto a platform where crew members could be extracted.
The next crewed mission to the ISS will be today's NASA/SpaceX Crew-4 mission, part of the Commercial Crew Program. NASA astronauts Kjell Lindgren, Robert Hines, Jessica Watson, and ESA astronaut Samantha Cristoforetti will undertake a six-month science mission. Crew-4 will fly on Crew Dragon Freedom, which will mark the capsule's first journey to the ISS.