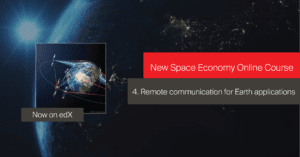 By Nina Walker
Edinburgh, 27 April 2022. – Space4Impact, EPFL's Space Center eSpace, E2MC Ventures, and Space Innovation joined forces to launch an online course on the New Space Economy. The program is available on edX as a free EPFLx course. Learners can watch more than 30 video lectures by space experts from various domains within startups, academia, the private sector, and public institutions in Switzerland.
Week 4 of the course is all about remote communication for Earth applications. The session starts with four videos from revisiting lecturer Andrea Alberti from PMOD/WRC, who gives an overview over the business models from satcom, which is still the most lucrative space application today. Andrea also describes the performance and constraints of different satcom systems and dives into a market analysis for new actors. After discussing future opportunities in the satcom business, Andrea also reminds us of the importance of securing communications.
To bring in an entrepreneurial perspective, Laurent Vieira De Mello, COO at Astrocast, describes how global satellite networks enable IoT applications. Check out his lecture, Space 4 Global IoT below. To round off the week, E2MC Ventures' Raphael Roettgen, one of the course organisers, explains concrete space technology applications for the finance sector.
If you wish to sign up to the free New Space Economy course, visit the site by clicking here.