T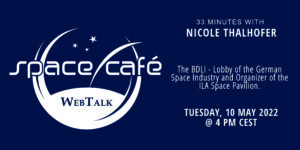 his Space Café WebTalk will feature Nicole Thalhofer, Head of Space Department, Lawyer at the German Aerospace Industries Association (BDLI), in conversation with Torsten Kriening, publisher of SpaceWatch.Global.
The BDLI – Lobby of the German Space Industry and Organizer of the Unique ILA Space Pavilion.
The BDLI deals with and represents all matters relevant to the German space industry at a national, European, and international stage. This applies to the coordination development and communication of positions – as is currently the case, while creating a new national space strategy or preparing for the ESA Ministerial Council Conference.
Space travel has developed a lot in recent years and has led to an expansion of topics and the industrial landscape. In addition to the established aerospace industry, more and more new players have entered the market and commercial aspects have come even more into focus under the keyword New Space. The BDLI accompanied this development. Its members include not only established space companies – from LSI to MidCaps to SMEs – but also start-ups. The focus is on networking and finding synergies.
As the brand owner of the ILA Berlin – the trade fair for "Innovation and Leadership in Aerospace", the BDLI Space Department organizes Europe's largest and globally unique space exhibition every two years: the ILA Space Pavilion. Partners are ESA, DLR and the German space industry in the BDLI, and the patron the BMWK. Once again, this year, trade visitors and the public can expect an impressive exhibition of current German and European aerospace priorities and a top-class stage and event program from June 22-26. The main themes of the ILA Space Pavilion 2022, which spans over various departments and sectors, are: sustainability and climate change, digitization, innovation and research, protection, and security. International space exhibitors from all over the world are expected and a special exhibition New Space is planned.
All of this shows that participating in the BDLI is worthwhile.
The audience will have an opportunity to ask questions in dialogue with Nicole Thalhofer.
SpaceWatch.Global is a Europe-based digital magazine and portal for those interested in space and the far-reaching impact of the space sector.
This Space Café WebTalk will be conducted in English on 10 May 2022 at 4 pm CEST.
Reserve your place today.