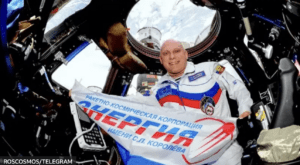 Edinburgh, 21 March 2022. – Russian cosmonauts Denis Matveyev, Oleg Artemyev and Sergey Korsakov, the first cosmonauts to arrive on the ISS since Russia invaded Ukraine, docked wearing bright yellow suits with blue trimmings. As the standard-issue Russian uniform is blue, speculations started as to why they chose the colours of the Ukrainian flag.
People around the world have been using the colours of the Ukrainian flag in different scenarios to show solidarity. Artemyev, however, said that they only  chose yellow because there was a lot of yellow material left to work with. Roscosmos claims the suits were designed to match the colors of the emblem of Bauman Moscow State Technical University. All three cosmonauts graduated from that institution.
Cosmonauts usually have two suits, one that is the same across the crew and a personalised one. They typically meet with the company who makes these suits for them months before the flight. Although it is not certain when they decided on the colors, according to standard practice this would have predated the conflict between the two countries.
The three Russian ISS crew members will begin a six-month science mission. Current crew members Mark Vande Hei, Pyotr Dubrov and Anton Shkaplerov are scheduled to fly back to Earth on 30th March.