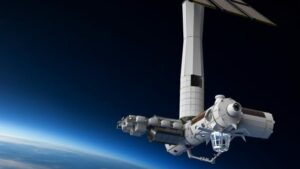 Edinburgh, 21 January 2022. – Space Entertainment Enterprise (SEE), co-founded by Elena and Dmitry Lesnevsky, producers of Tom Cruise's coming space movie, announced plans to attach an Axiom-built film studio and sports arena to the ISS, CNBC reports. 
SEE-1, the new module, will be attached to Axiom Station, the first commercial module of the ISS, in December 2024. The inflatable module has a diameter of approximately 6 m, according to Axiom. 
The site will be utilized for films, television, online content creation, music and sports events. SEE is planning to produce its own content but third-party providers will be welcome to use the module as well.
SEE is in discussions with possible investors and future partners and is planning on a fundraising round for the project. Axiom won a NASA contract to attach its first habitable module to the ISS in 2020. The company will detach its modules before the ISS retires, and they will become a free-flying Axiom Station.
Axiom will send Tom Cruise and director Doug Liman to the ISS this year to shoot the second movie to be shot in space.