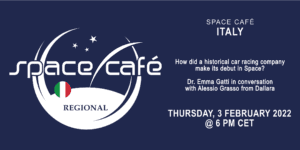 This Space Café Italy will feature Alessio Grasso, Aerospace & Defense Business Unit Manager of the Dallara Group,in conversation with Dr Emma Gatti, host for Space Cafè Radio and correspondent of SpaceWatch.Global for Italy.
How did a historical car racing company make its debut in Space?
In the first episode of Space Cafè Italy, Senior Editor Emma Gatti will be joined in conversation by Alessio Grasso, Aerospace & Defence Business Unit Manager of Dallara, the historical racing company who built the frames for the most famous racing cars.
Dallara is quintessentially Italian: situated in the middle of the Motorvalley area, it is a symbol of traditional Italian craft and creativity. But how has an historical car racing company become involved with Space exploration? At the heart of their approach is the transfer of high-end automotive technology to the Space industry and the vision to promote and lead the Italian "traditional" business sector toward the needs of the next century. Alessio will tell us about their journey to apply knowledge acquired during sixty years of car manufacturing onto Space goals, and the challenges and exciting opportunities this bold step could provide for Italian industry at large.
Italian Air Force (ItAF) Brigadier General (Reserve) Alessio Grasso is a former Italian Air Force Officer who served in the army from 1998 to 2021. He also served at the Italian Embassy in Washington as Assistant Defense and Defense Cooperation Attaché tasked with managing all Italian Defense Procurement related activities. He currently holds the position of Aerospace & Defense Business Unit Manager of the Dallara Group, where he explores market trends and identifies new opportunities at the boundary between industry and the Space sector.
Dr. Emma Gatti, a former NASA scientist, is a broadcaster and a science writer. She follows the exploration of the Moon and Mars and analyses trends in the Space geopolitical sector. She is a host for Space Cafè Radio and the presenter of Space Cafè Italy.
The audience will have an opportunity to ask questions in dialogue with Alessio Grasso.
SpaceWatch.Global is a Switzerland-based digital magazine and portal for those interested in space and the far-reaching impact of the space sector.
This Space Café Italy will be conducted in Italian on 3rd February 2022 at 6 pm CET.
Reserve your place today.