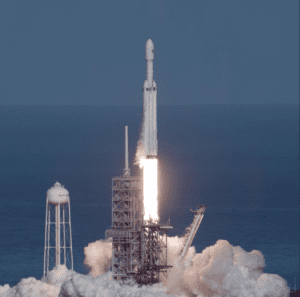 Edinburgh / Washington, 24 January 2022. – The U.S. Air Force awarded a US $102 million, five-year contract to SpaceX to demonstrate technologies and capabilities to transport military cargo and humanitarian aid on a heavy rocket, the U.S. Government announced.
The contract is part of the rocket cargo program led by the Air Force Research Laboratory (AFRL). The project investigates the utilization, capacity, speed and cost of large commercial rockets for the Department of Defense's global logistics. 
The contract does not specify which SpaceX launch vehicle should be used for the project. Rather, AFRL will collect environmental and performance data on SpaceX's commercial orbital launches and booster landings. The company will also provide cargo bay designs suitable for rapid loading and unloading. 
The contract includes an option for a heavy cargo transport and landing demonstration. However, there is no specified timeline or location for the demonstration yet. The Air Force is planning to contract other companies in the future to expand the project.
Meanwhile, United Launch Alliance successfully launched the U.S. Space Force (USSF)-8 mission on an Atlas V 511 rocket. USSF-8 comprises two identical Geosynchronous Space Situational Awareness Program (GSSAP) satellites, GSSAP-5 and GSSAP-6. These satellites support the U.S. Space Command space surveillance operations.