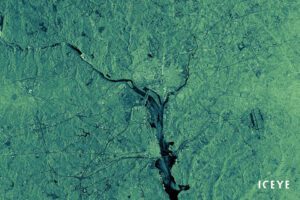 Edinburgh / Irvine, 24 January 2022. – Iceye signed a contract in the U.S. with the National Reconnaissance Office (NRO) to participate in the evaluation of commercial remote sensing companies operating synthetic aperture radar (SAR) satellites, the company said.
With its U.S. subsidiary it will focus on modeling and simulation, Iceye said. It will also support NRO's detailed assessment of imaging modes, image quality, geolocation accuracy and coverage.
NRO plans to leverage next generation commercial radar providers to secure satellite imagery for defense, intelligence, and humanitarian efforts.
Iceye builds and operates U.S.-licensed SAR spacecraft and has successfully launched its first satellite earlier this month. Its small satellites weigh about 100 kg and provide detailed Earth observation images and measurements.
As approximately 50% of the Earth is covered in clouds or darkness at any given time, traditional Earth observation satellites fail while radar imaging satellites can form high-resolution images even at night, and through cloud cover as well.