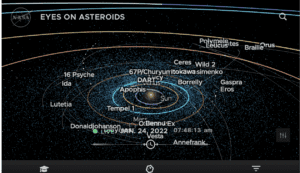 Paris/ Washington, 23 January 2022. – NASA will launch a mini asteroid scout mission called NEA Scout with the uncrewed first Artemis testflight in spring, the agency said.
The target is 2020 GE, a near-Earth asteroid that is less 18 meters in size; asteroids smaller than 100 meters have never been explored up close before, NASA said. NEA stands for near Earth asteroid.
2020 GE was first observed in March 2020 by the University of Arizona's Catalina Sky Survey, as part of its search for near-Earth objects for NASA's Planetary Defense Coordination Office.
The spacecraft will use its science camera to get a closer look, measuring the object's size, shape, rotation, and surface properties while looking for any dust and debris that might surround 2020 GE.
It will ride as one of ten secondary payloads aboard the Space Launch System (SLS) rocket, which will launch no earlier than March 2022 at NASA's Kennedy Space Center in Florida. NEA Scout will then be deployed from a dispenser attached to the adapter ring that connects the rocket and Orion spacecraft, NASA said.