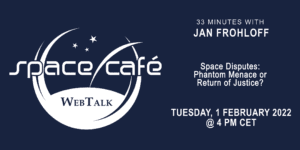 This Space Café WebTalk will feature Dr. Jan Frohloff, lawyer and independent practitioner advising on dispute resolution and corporate matters in conversation with Torsten Kriening, publisher of SpaceWatch.Global.
Space Disputes – Phantom Menace or Return of Justice?
Dr. Jan Frohloff is a lawyer practising in Berlin, Germany. He started his career as dispute resolution lawyer at the international law firms Baker McKenzie and Morrison & Foerster. Since November 2021, Jan is working as an independent practitioner advising clients in both dispute resolution and corporate matters.
In this webtalk, we will look into space disputes. What are they? What will they be about? Where can they be settled?
The audience will have an opportunity to ask questions in dialogue with Jan Frohloff.
SpaceWatch.Global is a Switzerland-based digital magazine and portal for those interested in space and the far-reaching impact of the space sector.
This Space Café WebTalk will be conducted in English on 1 February 2022 at 4 pm CET.
Reserve your place today.