By Luisa Low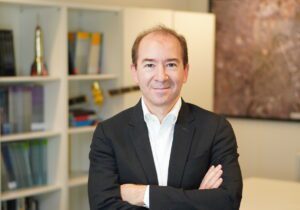 During this week's Space Café, SpaceWatch.Global Publisher Torsten Kriening caught up with Pacôme Révillon, the CEO of EuroConsult – a Parisian space consultancy firm that works with over 600 clients from 50 countries, providing expertise in government relations, telecommunications, new space ventures, earth observation and ground segment assets.
At Euroconsult, Pacôme has led the company's strategy and operations, consulting with high-level clients, particularly in satellite broadcasting, communications and finance. Under his management, the company has gone from strength to strength – with continuous international expansion rendering it a well regarded international reference on the strategic, economic and financial aspects of space activities.
Pacôme is also the host of the World Satellite Business Week – the annual rendez-vous for every leader from the global satellite connectivity and information business – with this year's hybrid event having just taken place this week.
This week, he and Torsten discuss a year in retrospect, and what might be around the corner as we enter a new year and chapter in the space race.
Was 2021 the year the space sector grew up?
Many of us hoped 2021 would be uneventful, but as 2020 taught us – never expect anything.
In spite of the pandemic, space has had a good year, in many ways emerging from its adolescence. According to Pacôme, numerous companies are now in a position where they are ready to deploy their infrastructure and many constellations are coming into orbit. There has also been a big surge in mergers and acquisitions – a good sign the sector is maturing and coming into its own.
"It's been a pretty unique year for the space sector… I think where we are today is a bit of a new space – more companies are certainly getting established and getting to form a 'new normal', but it's also the time for the new space business."

"Many companies are really coming to the point where they're starting their commercial operations, or they will do so next year or the year after. We are in a time of change."
This suge in business and deployment of infrastructure is not set to slow down, either. Each year, EuroConsult produces an annual market intelligence report. This year it estimated that over the next decade we could see more than 17,000 satellites delivered into orbit.
This surge in satellite infrastructure will support the burgeoning telecommunications and connectivity industries, supporting emerging fields like Internet of Things, 6G and remote sensing technology.
A great leap forward – how 2021 changed space
According to Pacôme, in 2021 there were several transformative milestones that will set the tone for the sector's future – particularly in-service constellations, human spaceflight, debris removal and space tourism.
Government investment in the sector has also grown – with more nations prioritising growing or creating their homegrown space agencies, as well as space-specific R&D funding.
There's certainly more capital flying around, too, with big companies like Microsoft and Amazon putting their money where their mouth is. Lesser known areas – like space logistics – have also grown, with an increase in the development of relay systems being developed.
What's on the horizon?
A crystal ball to predict what's coming would be a pretty neat tool for a global consultancy. To get a clearer picture of what's on the horizon in 2022 and beyond, Pacôme says we should consider the enduring trends and follow the money trail.
"If not next year, but the year after some of the launch systems for small satellites, will be getting to the trial phase, or may get operational next year or the year after."

"A number of companies will just reach that new milestone where they get commercial mergers and acquisition – a kind of restructuring of the ecosystem will continue to accelerate.

"Because of the new kind of competitive landscape, there is obviously a rationale and a need for companies to rethink their business positioning and sync. Mergers and acquisitions, new business combinations and new capabilities would be required to remain relevant in the industry as it becomes. So that will be one of the important drivers."
To listen to Pacome Revillion's insights into the space sector, you can watch the full program here:

Luisa Low is a freelance journalist and media adviser from Sydney, Australia. She currently manages Media and Public Relations for the University of Sydney's Faculty of Engineering.