This Space Café WebTalk will feature Alice Gorman, space archeologist and associate professor at Flinders University, in conversation with Torsten Kriening, publisher of SpaceWatch.Global.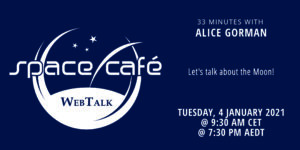 Let's talk about the Moon!
Associate Professor Alice Gorman, from Flinders University, is an internationally recognised leader in the field of space archaeology. Her research focuses on the archaeology and heritage of space exploration, including space junk, planetary landing sites, off-earth mining, rocket launch pads and antennas. She is a Senior Member of the American Institute of Aeronautics and Astronautics and a former Deputy Chair of the Space Industry Association of Australia. Her award-winning book Dr Space Junk vs the Universe: Archaeology and the Future was published in 2019. She tweets as @drspacejunk and blogs at Space Age Archaeology.
The audience will have an opportunity to ask questions in dialogue with Alice Gorman.
SpaceWatch.Global is a Switzerland-based digital magazine and portal for those interested in space and the far-reaching impact of the space sector.
This Space Café WebTalk will be conducted in English on 4 January 2022 at 9:30 am CET.
Reserve your place today.