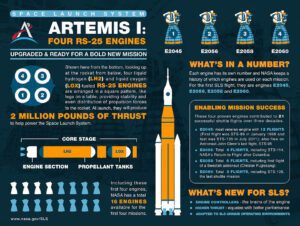 Edinburgh, 24 December 2021. – During a recent core stage power test of the Space Launch System (SLS) rocket and the Orion spacecraft engineers identified an issue with one of the RS-25 engine flight controllers, NASA reported. The issue will cause delays in the launch of the Artemis I mission.
The flight controller communicates with SLS, provides precision control as well as internal health diagnostics. Out of the two channels each of the four RS-25 engines is equipped with, channel B of the one on engine four failed to power up persistently.
After inspection and troubleshooting, engineers decided to replace the engine controller, making the rocket redundant while investigating the root cause. Integrated testing will end with the wet dress rehearsal, after which NASA will set a target launch date.
Artemis I will be the first in a series of three missions. The uncrewed Orion spacecraft will launch on the most powerful rocket and fly further than any spacecraft before. It will travel beyond the Moon, over 450,000 km from Earth and stay in space for four to six weeks.