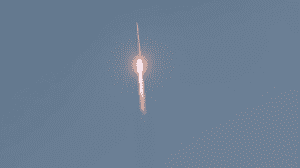 Edinburgh, 25 October, 2021. – South Korea's first domestically built rocket reached its designated altitude but the dummy payload it was carrying could not be deployed into orbit, Naro Space Center said.
The third-stage engine shut down 46 seconds early and therefore could not release the 1500-kg payload at orbital speed.
Nuri lifted off an hour later than planned as the 47.2-m rocket's valves had to be examined. The kerosene-fuelled, three-stage KSLV-2 rocket had a smooth lift-off from Goheung and reached an altitude of 700 km.
But the KRE-007 engine burned for 475 seconds instead of the planned 521 seconds. Therefore, the payload failed to fly at the required minimum speed of 7.5 kmps. The science ministry said an investigation would be carried out to determine what caused the malfunction.
South Korea is planning a second launch in May next year with the same rocket hardware. Further four more launches are scheduled in by 2027 to test and increase reliability. The development of the KSLV-2 rocket cost US $1.6 billion. The project is part of South Korea's space program which includes the launch of the nation's first robotic lunar lander by 2030.
The previous, two-stage, KSLV-1 rocket built by the country with Russian hardware had similar problems. It reached its intended altitude in 2009 but failed to deploy a satellite into orbit. The launch vehicle exploded shortly after takeoff during its second test in 2010 before a successful launch in 2013.