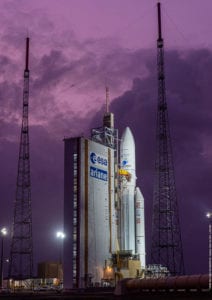 On Tuesday, 18 February  2020 at 22:18 UTC (Universal Time Coordinates), Arianespace successfully launched two satellites using an Ariane 5 rocket from the Guiana Space Centre (CSG), Europe's Spaceport in French Guiana: JCSAT-17 for the Japanese operator SKY Perfect JSAT Corporation, and GEO-KOMPSAT-2B for the Korea Aerospace Research Institute (KARI).
Following the launch, Arianespace Chief Executive Officer Stéphane Israël said: "As we start to celebrate the 40th anniversary of Arianespace, this latest success clearly shows the Arianespace launcher family's exceptional reliability, its ability to adapt to the marketplace's evolution, and the great flexibility – since it is capable of launching all types of satellites and spacecraft to all orbits and into deep space. With this launch, Arianespace's teams and partners have once again contributed to making life better on Earth, this time by orbiting two satellites that will contribute to the deployment of broadband in Asia and to monitoring and better understanding our environment. Ariane 5 did its job! Thanks to SKY Perfect JSAT Corporation and KARI for their trust."
Today's launch follows the successful missions of Ariane 5 on January 16 from Kourou, French Guiana, and Soyuz on February 7 from Baikonur Cosmodrome in Kazakhstan. In one month, Arianespace has launched a total of 38 satellites. Three more launches are scheduled in March from the space centers in French Guiana (utilizing one Soyuz and a Vega launcher) and Kazakhstan (with Soyuz).
JCSAT-17 is the 20th satellite orbited by Arianespace for SKY Perfect JSAT, a leader in space-based broadcasting and communications, which includes the most recent launch of DSN-1/Superbird-8 in April 2018. The Japanese operator broadcasts pay TV packages and supplies communications services via satellite, as well as a wide range of entertainment programming via its SKY PerfecTV! platform – the largest in Japan.
The JCSAT-17 geostationary satellite will offer flexible broadband communications services to users in Japan and the Asia-Pacific region. Its payload includes S-, C- and Ku-band transponders. The S and C-band transponders will be used by NTT DOCOMO, Inc., the largest telecommunications company in Japan. With the support of SKY Perfect JSAT, NTT DOCOMO will offer flexible mobile communications services in Japan and surrounding areas, based on an indefeasible right of use (IRU) contract.
Built by Lockheed Martin Space, JCSAT-17 is the 47th satellite from this manufacturer to be launched by Arianespace.
With this latest success Arianespace continues to strengthen its exceptional partnership with SKY Perfect JSAT, a relationship that reaches back to JCSAT-1, launched in 1989.
Arianespace has operated in Japan for over 30 years, since opening an office in Tokyo in 1986. The relationship of mutual trust established with Japanese operators and public authorities has enabled Arianespace to win 34 of the 47 launch contracts open to competition, giving it a 70% share of the Japanese open market for commercial geostationary satellites.
GEO-KOMPSAT-2B is the eighth satellite launched by Arianespace for South Korea.
In fact, since the launch of the first Korean satellites – KITSAT-1A in 1992 and KITSAT-2 in 1993 utilizing Ariane 4 launch vehicles – Arianespace has built a long-term partnership with public and private actors for the Korean government's space program, as well as within the framework of a fruitful collaboration with the national operator of satellites – kt sat – for commercial telecommunications.
GEO-KOMPSAT-2B is the third KARI satellite to be launched by Arianespace, following the multi-mission COMS (Communication, Ocean, Meteorological Satellite) in 2010 and GEO-KOMPSAT-2A in 2018 – both orbited by Ariane 5.
GEO-KOMPSAT-2B has two main payloads: GOCI II (Geostationary Ocean Color Image), supplied by Airbus Defence and Space; and GEMS (Geostationary Environmental Monitoring Spectrometer), supplied by Ball Aerospace & Technologies.
GEO-KOMPSAT-2 is a South Korean government program to develop and operate two geostationary satellites for civil applications: GEO-KOMPSAT-2A for meteorology and space environment monitoring missions; and GEO-KOMPSAT-2B, for environmental monitoring of both land and oceans. The GEO-KOMPSAT-2 program is a follow-up to the COMS (Communication, Ocean and Meteorological Satellite) program.
Arianespace also orbited three satellites for the telecom operator kt sat: KOREASAT-3 in 1999, KOREASAT-6 in 2010 and KOREASAT-7 in 2017.
In addition, Arianespace's backlog of orders includes another KARI satellite, KOMPSAT-7, to be orbited by a Vega C launcher.