This Space Café WebTalk will feature Michael Byers, co-director of the Outer Space Institute (OSI), in conversation with Torsten Kriening, publisher of SpaceWatch.Global.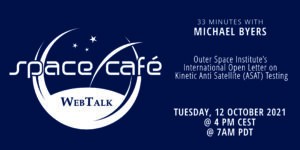 Outer Space Institute's International Open Letter on Kinetic Anti Satellite (ASAT) Testing.
The Outer Space Institute is pleased to publish the International Open Letter on Kinetic Anti-Satellite (ASAT) Testing, the second Open Letter coordinated by the OSI. This letter urges the UN General Assembly to take up consideration of a treaty that would prohibit conducting debris-generating anti-satellite weapon tests. The need for such a treaty is driven by very rapid growth in the number of satellites in orbit.
The OSI is a network of world-leading space experts united by their commitment to highly innovative, transdisciplinary research that addresses grand challenges facing the continued use and exploration of space. Comprised of physical scientists, social scientists, lawyers, engineers, industry leaders, and policy-makers, there is no other body like it anywhere. The transdisciplinary approach enables the OSI to identify challenges, opportunities, and solutions that have been overlooked by other groups. By breaking down barriers that prevent people in different fields from working together, the OSI is able to further challenge assumptions that are often taken for granted in building public policy.
Michael Byers studies the interplay of international law and international relations, especially with respect to armed force, climate change, the oceans, the Arctic, and most recently space. He is currently under contract with Cambridge University Press for a book that will be co-authored with Aaron Boley entitled Who Owns Outer Space? International Law, Astrophysics, and NewSpace.
In this WebTalk, Michael Byers will talk about the International Open Letter on Kinetic Anti-Satellite (ASAT) Testing and give insight into the work that the OSI does.
The audience will have an opportunity to ask questions in dialogue with Michael Byers.
SpaceWatch.Global is a Switzerland-based digital magazine and portal for those interested in space and the far-reaching impact of the space sector.
This Space Café WebTalk will be conducted in English on 12 October 2021 at 4 pm CEST.
Reserve your place today.