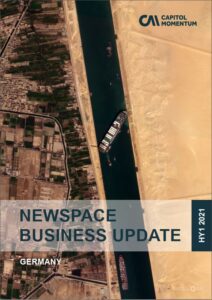 by Maria Jahnke, Co-Founder, Capitol Momentum
In the ongoing effort to increase market transparency by providing valuable, reliable and up to date insights of the fast-paced and emerging German NewSpace ecosystem, Capitol Momentum has compiled an interim Business Review Report for the first Half Year of 2021. For this Industry Update, Capitol Momentum has analyzed 121 German NewSpace companies, 49% of which operated in Upstream and 41% in Downstream markets. By technology, 47% of them focus mainly on Hardware and 43% on Software. About 40% of our in-scope companies are less than 5 years, while 69% are less than 10 years old.
The German NewSpace landscape in 2021 was characterized by strong investment deal activity (12) and Downstream investments shifting up to almost 30% of the entire deal count. HY1 has seen accumulated equity investment on disclosed deals of nearly €100m. Most deal activity involved early-stage capital rounds (75%). Compared to funding rounds of the past 2 years, a slight shift from Seed to Series A and even Series B rounds in 2021 was observed, resembling a maturing process of the market as well as increased venture capital investor interest driving additional funds into the German NewSpace industry. This trend is also supported by an increased involvement of Non-Space Industry investors in NewSpace businesses, expressing the demand and need for new and cost-effective business solutions to further advance existing industries and expand into new emerging markets. In 2021 industry players entered the NewSpace stage with Automobile giants Porsche and Daimler investing in micro launcher Isar Aerospace and upscale ride-hailing app provider Blacklane. With 76 top business milestones achieved, 21 new top contracts awarded and with 17 strategic partnerships entered, there is reason to believe that 2021 is going to be another record hitting year for the German NewSpace Industry.