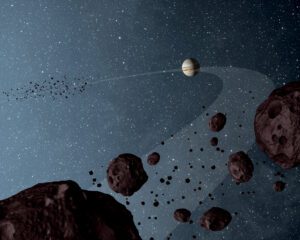 Edinburgh, 1 October 2021. – Lucy, NASA's first spacecraft to study Jupiter's Trojan asteroids, is being prepared for launch on 16th October, NASA said.
By studying these asteroids, scientists hope to learn more about how the planets of the Solar System formed.
NASA's Lucy team have been preparing the spacecraft for flight in the past eight weeks. Engineers have tested its mechanical, electrical, and thermal systems and practiced executing the launch sequence, NASA said. The spacecraft is equipped with a high-gain antenna and expansive solar arrays. Each array has the width of a school bus and will be used to power Lucy's instruments. The probe is fuelled by 725 kg of liquid hydrazine and liquid oxygen, making up 40% of its mass.
Once the spacecraft is integrated in the fairing, it will be transported to the Vehicle Integration Facility at the Cape Canaveral Space Force Station. It will then be unified with United Launch Alliance's Atlas V 401 rocket for lift-off from Space Launch Complex 41.
Lucy will fly by the surface of its target objects within 400 km and investigate their geology, including composition, mass, volume and density. The plan is to visit eight asteroids – one in the main belt between Mars and Jupiter and seven Trojans out of the 7,000.
The mission will take twelve years and the total cost is $981 million.