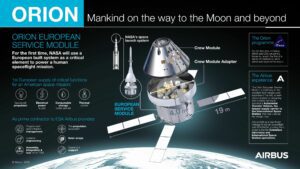 Paris, 4 October 2021. – A glimpse in the cleanroom: Airbus plans to demonstrate the European Service Module for NASA´s Orion missions to the Moon, the company said.
Airbus invited media representatives to join a virtual visit to the cleanroom on Wednesday, 6 October, to watch the delivery of the European Service Module ESM-2 and look at ESM-3.
These modules are the key parts of Europe's contribution to NASA´s Artemis missions to the Moon.
During the virtual visit, the media will be able to see the European Service Modules ESM-2, which will be ready for dispatch to NASA's Kennedy Space Centre, and ESM-3, which is in progress for completion in late 2022, Airbus said.
The first module, ESM-1, is already fully integrated with the Orion capsule and in final preparations for its launch on Artemis I, the uncrewed first lunar mission.
The second Artemis mission, with ESM-2, will take up to four astronauts on a flyby around the Moon; ESM-3 will take the first humans to land on the lunar surface.
The European Space Agency (ESA) is overseeing the development of the European Service Module; the module provides air, electricity and propulsion to the Orion spacecraft. "Much like a train engine pulls passenger carriages and supplies power, the European Service Module will power the Orion Crew Module to its destination and back to Earth", Airbus said.