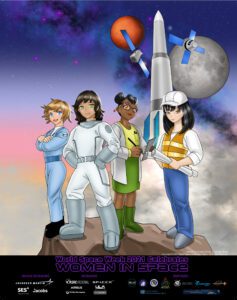 Edinburgh, 4 October 2021. – World Space Week, a UN-declared celebration of space held annually, takes place this year from 4th to 10th October.
The dates commemorate two events. The first is the launch of Sputnik 1, the first human-made satellite on 4th October, 1957. The second is the signing of the Treaty on Principles Governing the Activites of States in the Exploration and Peaceful Uses of Outer Space, including the Moon and Other Celestial Bodies, on 10th October, 1967.
In 2021, World Space Week is dedicated to the theme of "Women in Space". "This year's theme, 'Women in Space,' celebrates women who significantly contributed to the space sector," said Maruska Strah, World Space Week Association (WSWA) Executive Director.
The thousands of global events aim to inspire the next generation by celebrating the accomplishments of women in space.
The event honors science and technology, and their contribution to the improvement of life on our planet. In 2020, over 6,500 events held in 90 countries were reported. The events are organized by space agencies, student societies, aerospace companies, astronomy clubs and museums among others.
The mission of WSWA is to strengthen the link between space and society through education and outreach. The public is invited to attend events in their countries or on-line.